Insulation of new buildings creates healthy living- and work environments by making the buildings sustainable, comfortable, secure and health improving. As a total insulator we deliver insulation services of the entire house with quick and efficient solutions, using waste reducing and energy saving methods.
Insulation using PAROC stone wool has several benefits:
energy saving
minimisation of emissions
minimisation of noise
improved fire protection
stable and maintains shape
excellent water repellence and high vapour permeability
We offer total insulation services; including walls, lofts, floors, (sloped) ceilings, cornices and shafts.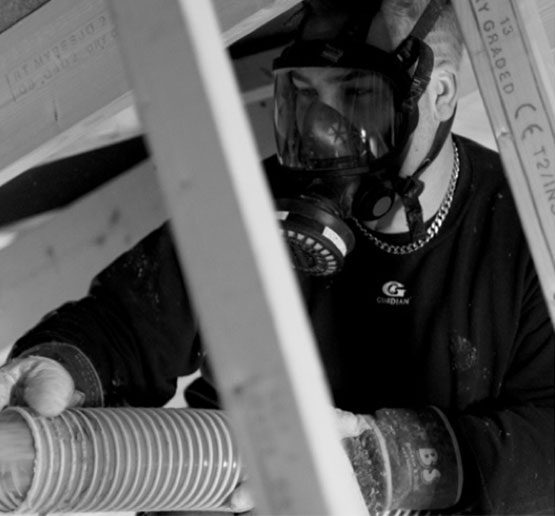 Insulation of new buildings
Read more about the advantages
Buildings have an enormous potential for energy saving. A well-insulated house uses approx. 20% of the energy that contributes to heating a standard house. Insulation is the most important single factor when an energy efficient house is built, because the insulation can make up 75% av the house's total potential for reduced energy use, which amounts to approx. 460 million tonnes of carbon dioxide (CO2) every year. Stone wool also has excellent water repellence, and high vapour permeability that prevents condensation within the insulation.
PAROC stone wool is CE marked and provides maintenance-free fire protection for as long as the building stands. The stone wool is made from inorganic materials, and has an exceptionally high melting point at approx. 1000 degrees celcius and thus qualifies as non-combustible. PAROC stone wool has a unique combination of excellent thermal, sound insulating and fire protective capabilities, and satisfies the strictest European fire class (Euroclass A1).
Use and handling of PAROC stone wool is entirely without health hazards. To guarantee product safety, the Paroc Group only produces highly bio-soluble stone wool fibres which cannot be classified as carcinogenic to humans. Parc has also been awarded the RAL quality mark, which certifies that their stone wool products do not contain carcinogens, mutagens or substances toxic to reproduction, in accordance with the German technical regulation for dangerous substances (TRGS 905).
Porous stone wool from PAROC is an excellent sound absorbent material. The ability to absorb sound increases with frequency, and is strongly linked to the thickness of the material. For low frequency sound, an air gap between the absorber and the reflective surface (or wall) will increase the sound absorption.
Sustainability is central to our solution development. We therefore contribute to energy saving with our insulation services:
efficient energy utilisation and flexibility
minimisation of emissions
utilisation of production waste and recycling